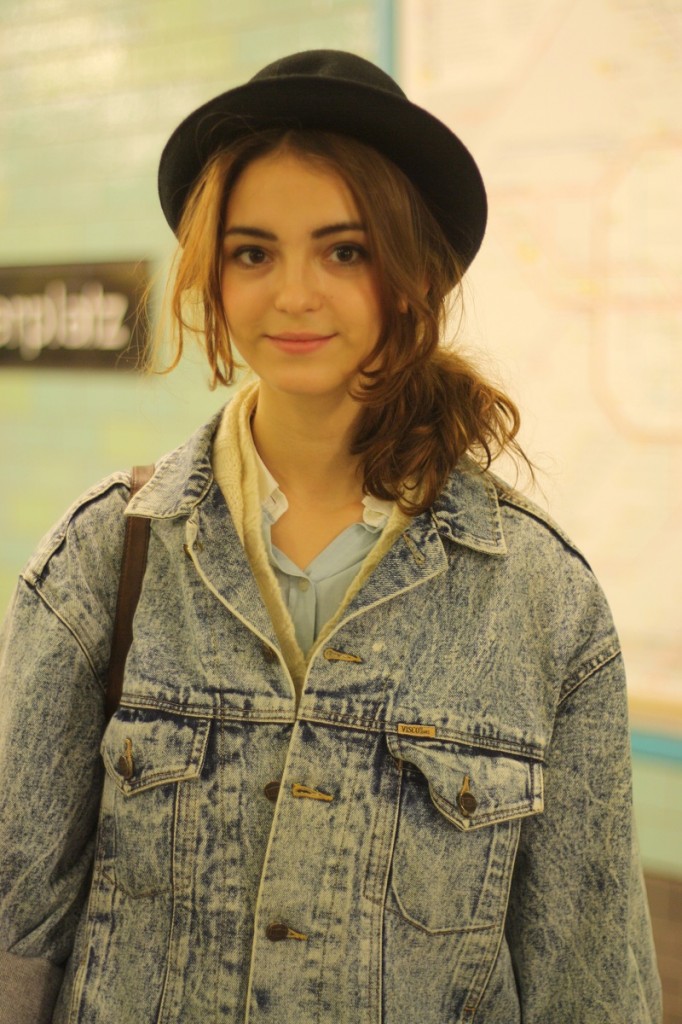 Waiting for the U-Bahn at Alexanderplatz in Berlin, we catched the girl with those dark innocent eyes to find out, that she comes from Moscow. Anna just became 19 years ago a few days before and that's why she came to Berlin: to celebrate her special day.
Born in Kazakstan, Anna moved in the age of 2 years with her family to the capital of Russia, where she studies today Journalism. She finds Berlin controverse. On one side Anna thinks the German capital is old, beautiful and simple by buildings in old european style and all those cafes, where you can have breakfast, on the other side Berlin seems very modern, moving, urban with friendly people.
Except of her boots and backpackers she bought her clothes at boutiques in Berlin. When it comes to describing her own style, Anna explains it as a simple, elegant vintage style. She loves wearing men's clothes. When I wanted to know, that if it might be a part of emancipation, she neither agreed nor negated the statement. That's an interesting thought, Anna said, but she loves wearing men's clothes, because she always used to take on the shirts and belts of her dad. In Moscow the young student loved to organize the Afisha Picnic Festival. Explaining it as an "Hipster-Festival" Anna laughs, but tells us, she loves speaking English and as a journalism student she had the great experience to organize and look after the artists.