Walking through the streets of Istanbul makes you think you walk through the world. But its not only the advanced civilisation of ancient Istanbul, what fascinates people from all over the world. The magic of this city is made by the people, who walk through the streets of Istanbul. But mostly its hardly to understand the heart if we dont know the tongue. So knowing this melodic language opens a door to a world where so many different minds pass by without speaking. But we need to get curious, we need to get open dialogues, and we need to get to love the foreign.
At the end the desire to explore the foreign gives birth to the new.
So lets say hello to the very special tourists, inhabitans and all between, that makes us turn to open a conversation between two worlds.
Take time for Shiva, Ayse and yourself by reading about those positive sophisticated souls and bodys.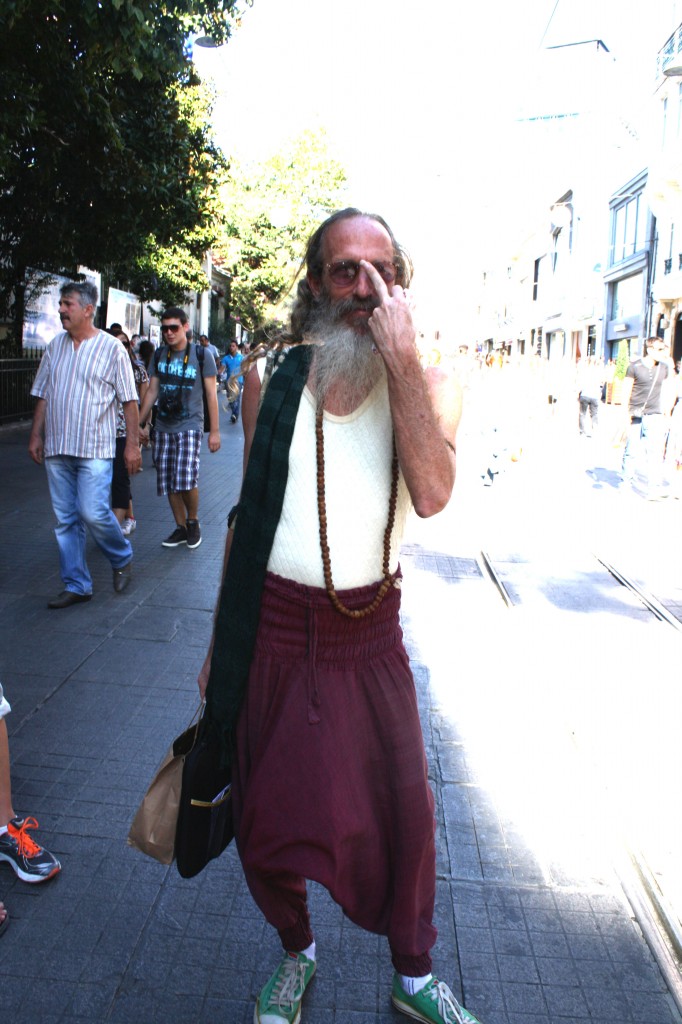 Walking on Istikklal Street a person in traditional indian clothing runs to meet. He is carrying a shoppingbag from Aveda as you can see and a macbook as I found out later. Although Shiva doesn't like pictures at all, we are glad to have a visual picture of the man, who has a peaceful view of the world.
Born as russian-jewish, the wise man travelled to America and landed in India. Believing to Rumi, the most important poet of persian culture, Shiva dances the Mevlana, the Sufi whirling. It's a form of meditation in the region of orient, which happens by listening to music to reach perfection.
Shiva sees himself as a original human being. For him belief hasn't to be practiced in a mosque or through sounds that come from the ezan. "What human being keeps alive is love. Everything that happens, is formed by love. Even hate. Every conflict, every war is made out of love. But there's just one kind of love. It's energy, beauty." But what is beauty in his eyes?", my sister asked. Shiva thinks that Beauty is something, what is a given, just undeniable. "The sun, that goes down or beautiful women." And at the end he explains by rubbing his arms the most important thing: "Real life is about consciousness, about living conscious."
Ayse could be actually a model. It's not because of her pretty face or her height. Her body posture radiates vital beauty and balance. Ayse took this as a compliment, and at the same time she said that it's always still important to be open and have the will to look behind the facade as she describes the subjective idea everyone gets of a person. From the near of Hannover Ayse to teach Yoga in Istanbul. When I just said naively that people, who are doing Yoga must be balanced, she just smiles and says "that's what we are trying to be."
I wish you all the best, Ayse and Shiva! It was great and full of positive Energie meeting those great people. I hope to visit Ayse the next time at her Yoga studio. (Thank you for the invitation).